Welcome to Murchison Falls National Park – Uganda Safari Tours & Chimpanzee Trekking in Budongo Forest Reserve.

Murchison Falls National Park is a national park in Uganda, managed by the Ugandan Wildlife Authority. Located in northwestern Uganda, spreading inland from the shores of Lake Albert, around the Victoria Nile, up to the Karuma Falls, the park straddles the Ugandan districts of Bulisa, Nwoya, Kiryandongo, and Masindi. The driving distance from Masindi, the nearest large town, to the Kibanda area of the national park is about 72 kilometres (45 miles). This area is about 283 kilometres (176 mi), by road, northwest of Kampala, the capital and largest city of Uganda. MFNP is Uganda's largest national park. It measures approximately 3,893 square kilometres (1,503 sq mi).
The park is bisected by the Victoria Nile from east to west for a distance of about 115 kilometres (71 miles). The park is the location of the Murchison Falls, where the waters of the Nile flow through a narrow gorge only 7 metres (23 feet) wide before plunging 43 metres (141 feet). Also in the park, adjacent to the Masindi – Gulu Highway, are the Karuma Falls, the location of the 600 megawatt Karuma Power Station, which will be Uganda's largest power station when it comes online circa 2018.
The Murchison Falls Conservation Area and the adjacent Bugondo Forest Reserve have 76 species of mammals as well as Uganda's largest population of Nile crocodiles. Roughly 450 bird species are present, including a variety of water fowl such as the rare shoe-billed stork, Budongo's 59 "restricted range" species, dwarf kingfisher, Goliath heron, white – thighed horn bill, and great blue turaco. Since 2005, the protected area is considered a Lion Conservation Unit.
Attractions in Murchison Falls National Park
Murchison Falls National Park is diverse, the scenery beautiful, and the wildlife amazing! Have a look at some of our amazing attractions!
Murchison Falls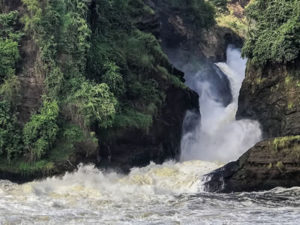 Murchison Falls is characterized by an eternal struggle between rock and water. The waters violently compress through a narrow gorge, spraying misty droplets along their wake over a 50m radius, creating a permanent rainbow over the battlefield, while maintaining a continuous roar. From Baker Point on the southern side, you can also view the Nile splitting into the smaller Uhuru Falls, created in 1962 when the river burst its banks.
River Nile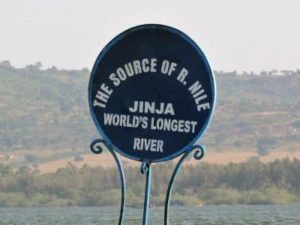 A boat ride along the Nile to the foot of Murchison Falls is a rewarding experience for nature lovers, as the northern bank teems with a variety of mammals, birds, and reptiles. Guided nature walks along both the north and south banks are another refreshing activity, and sport fishing is also possible here. Rafting began in 2012.
Nile – Lake Albert Delta
This wide, calm stretch of water, where the tranquil Victoria Nile flows into Lake Albert, is a key area for bird watchers. Its papyrus-lined banks are bursting with bird life, including Goliath Herons, Great Egrets, and African Fish Eagles. The most sought-after species here is the rare Shoe bill.
Buligi Game Tracks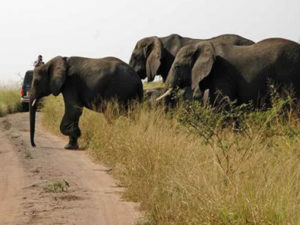 The Buligi game tracks, stretching between the Victoria and Albert Nile, is Murchison Falls National Park's most popular safari destination. At around 120-170km in length, they pass through open savanna grassland, woodland, acacia, and riverine vegetation. Most of the park's game can be viewed here, especially during early morning and early evening tours.
Paraa
Paraa is one of the top areas of interest in Murchison falls. The word Paraa comes from the local Luo language meaning, "home of hippos," and this is where all the park's access roads converge as the northern and southern banks are connected by a passenger ferry. A number of hotels and safari lodges are located nearby. There is also a museum and gift shop, which can be found on the northern bank. It also happens to be where most of the game drives launch trips and nature walks take place.
Karuma Falls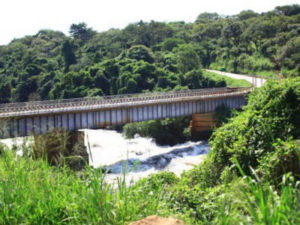 Karuma Falls is found in the northeastern side of Murchison Falls National Park in the Chobe region. It is a great location for sport fishing in Murchison Falls. These thundering waterfalls on the Victoria Nile are made up of a series of natural rock formations, which cause the waters to ripple and give them a white foam-like appearance to the amusement and excitement of the viewer! The best accommodation in this area is Chobe Safari Lodge.
Kaniyo Pabidi Forest
Kaniyo Pabidi Forest is located in the south of Murchison falls conservation area. It this forest ecosystem that harbours a habituated chimpanzee group, which can be tracked for those looking for a chimpanzee experience in Murchison Falls National Park. It is also home to black-and-white colobus monkeys, blue monkeys, and olive baboon troops. Other wildlife that visits include elephants, buffaloes, lions,and leopards. A great number of forest birds can be ticked off the list here, including the chocolate-backed kingfisher, white – thighed horn bill and Puvel's illadopsis, which cannot be found anywhere else in East Africa.  Kaniyo Pabidi has a campsite, cottage accommodation, forest walks, and excellent bird watching.
Rabongo Forest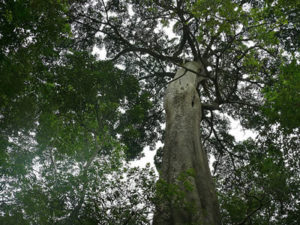 Surrounded by savanna and covering just 4km2, Rabongo Forest is considered a birding paradise, mostly owing to the diversity of endangered species found here. Rabongo is ideal for educational tours as it provides opportunities to identify animals, birds, medicinal plants, and trees. For relaxation, visitors can camp and enjoy picnics by the Wairingo River.
Budongo Forest
Budongo Forest is one of the key areas that lie southwest of Murchison Falls Conservation Area bordering Murchison falls with a link to the community, which is contiguous with the Kaniyo Pabidi Forest, known for chimpanzee tracking. The forest – Bundongo is overwhelmingly biodiverse, with 24 species of mammals, over 360 birds, 289 butterflies, and 465 plants. All the forest's tree species are on display along the "Royal Mile," a beautiful stretch of road highly regarded for its bird watching. Budongo is also known for its primate population, which includes around 800 chimpanzees. Forest walks are possible at the Busingiro Ecotourism Site on the Masindi – Bugungu route to Murchison Falls National Park.
Accommodation – Hotels & Lodges in Murchison Falls National Park
Murchison Falls National Park, being Uganda's premiere wildlife paradise, is visited frequently each year by international and local travelers. Several hospitality companies have developed various types of lodges, camps, and hotels to offer the best service to anyone hoping to visit the park. Lodges are distributed in the Southern sector before you cross with the ferry from the Kikyumbanyobo gate. You can also find them along the Masindi highway, the Northern sector from the Tangi gate, and the Pakwach highway. All lodges are have three categories – luxury, mid – range, budget, which includes campsites for overland safaris and those doing self drives in Uganda.
Chobe Safari Lodge
Paara Safari Lodge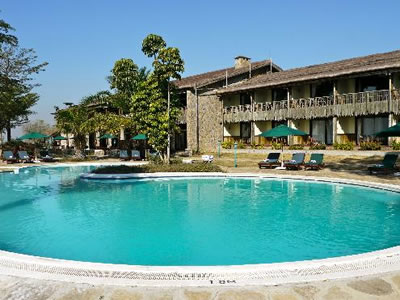 Murchison River Lodge